THE 13 CLAN MOTHERS

Walk the Sacred Path to Discovery through the 13 feminine archetypes
---
---
Look deep into your soul

Find your essence

Overcome your fear

Live your dream
If you know you need to make a change... But are unsure of where to start, this workshop is for YOU!
JOIN US FOR A WEEKEND OF TRANSFORMATION:
With the help of tools from the Native American tradition, breathing techniques and shamanic meditation, we will explore the 13 feminine archetypes to connect ourselves to our individual truth.
We will learn about the moon cycles and the challenges, lessons and growth we each experience as we move through the cycles of our own lives.
Inspired by the work of Jamie Sams, Ana Gabriela Robles developed this workshop as a tool to empower women to stand tall in the beauty of their true selves.
---
Las 13 Madres Clan
Recorre el camino sagrado hacia el autodescubrimiento a través de los 13 arquetipos femeninos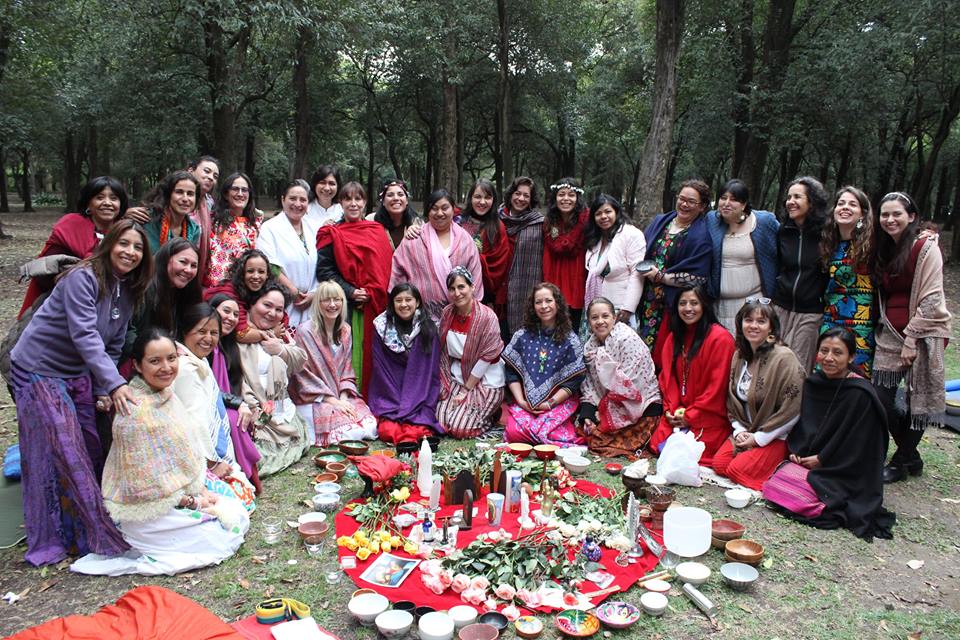 ---
Mira dentro de tu alma
Encuentra tu esencia
Libera tus miedos
Vive tu sueño
Si eres mujer y sabes que requieres dar el siguiente paso en tu vida… Pero no sabes cómo ni por dónde, ¡este taller es para TÍ!
REGÁLATE UN FIN DE SEMANA DE TRANSFORMACIÓN:
Utilizando herramientas de la tradición nativa americana, técnicas de respiración y meditación chamánica, exploraremos los 13 arquetipos femeninos para conectarnos con nuestra verdad individual.
Aprenderemos acerca de los ciclos de la luna y los retos, lecciones y crecimiento que cada uno de nosotros experimenta conforme pasamos por los ciclos de nuestra vida.
Inspirada por el trabajo de Jamie Sams, Ana Gabriela Robles desarrolló este taller como una herramienta para empoderar a las mujeres a brillar en la belleza de su yo verdadero.
WOMEN WHO HAVE HAD THIS EXPERIENCE ARE SAYING...
¿Qué dicen las mujeres que han tenido esta experiencia?
Your soul has a PURPOSE, don't wait! 2020 is the year for you to become your Vision. Align your life to your purpose and become your vision.
Tu alma tiene un PROPÓSITO no lo postergues más. 2020 es el año destinado a que Te conviertas en Tu Visión. Alinea tu vida y experimenta la evolución de tu alma.
Start living your life better. Tap into this opportunity. Register now!
Empieza a guiar tu vida de una mejor manera. No lo dejes pasar. ¡Inscríbete ahora mismo!
Ana Gabriela is a gifted teacher. Loving and yet firm, she helps you see and discover within.
Ana Gabriela tiene un don. Amorosa pero firme a la vez, te ayuda a ver y descubrir lo que hay dentro de ti.
---
• I want to live my dream / Quiero vivir mi sueño
• I deserve to transform and gift this to myself / Merezco una transformación y me la regalo

• I shed old patterns / Dejo atrás viejos patrones
If you are ready to start your transformation, you are about to make one of the best decisions of your life.
Si estás lista para emprender el camino de la transformación estás a punto de tomar una de las mejores decisiones de tu vida.
I AM READY TO BECOME MY VISION!
¡ESTOY LISTA PARA CONVERTIRME EN MI VISIÓN
WHEN Fecha
march 20 - 22
marzo 20 - 22
TIME Horario
Friday 3 pm to Sunday 12:00
Viernes a las 3 pm al domingo a las 12:00
WHERE Lugar
Gilroy, California. Excat adress to be mailed to participants
INCLUDED includio
Meals from Friday´s Dinner to Sundays breakfast
Alimentos de la cena del vienres al desayuno del domingo
Camping spot /
bring your camping gear / trae tu equipo para acampar
INFORMES INFORMATION
Dolores Moreno Yectzin
Cel. +1 408-772-9816
yectzinancestralenergy@gmail.com
Yectzinancestralenergy.com
THE 13 CLAN MOTHERS... A BODY-SOUL-PLANET EXPERIENCE
LAS 13 MADRES CLAN... UNA EXPERIENCIA PARA EL ALMA, EL CUERPO Y EL PLANETA

---
Meals & snaks provided from Friday dinner to Sunday breakfast
Organic, locally-sourced (whenever possible) vegetarian lunches and snacks are included for both days.
Please bring your own reusable mug and water bottle.
El taller incluye los almuerzos y snacks orgánicos y locales del viernres por la noche al desayuno del domingo (en la medida de lo posible).
Por favor trae tu propia taza y botella de agua reusables.
Who will teach it? ¿Quién lo imparte?
---
Ana Gabriela Robles has apprenticed with Abuela Margarita since 2000, and has planted her menstrual offering and observed her cyclic life for the last 20 years. Works with herbalism, aromatherapy, reiki, crystaltheraphy, as well as kundalini and oriental massage. She is obsidian master and therapist, by the Ana Silvia Serrano Method, and Advanced Moon Mother certified by Miranda Grey. She has a degree in Information Sciences and a graduate degree in Environmental Education.
Ana Gabriela Robles ha recordado con la Abuela Margarita desde el año 2000, hace su ofrenda mensual desde hace 20 años y observa desde entonces su vida cíclica. Tiene conocimientos de herbolaria, aromaterapia, reiki, cristaloterapia, masaje kundalini y oriental. Es terapeuta y master de obsidiana del Método de Ana Silvia Serrano y Moon Mother Avanzada certificada por Miranda Grey. Ha estudiado la Licenciada en Ciencias de la Información y tiene un Master en Educación Ambiental.
---
Share this workshop with the women in your life / comparte este taller con las mujeres de tu vida